🌻 Character Strengths
By understanding our values and Character Strengths we can align our daily actions at work to use the things that come most naturally to us. Are you fundamentally a curious person? How can you bring that to your personal and professional life?
There are 24 different Character Strengths that fit into 6 "virtue" categories, and most people have one main "Signature Strength".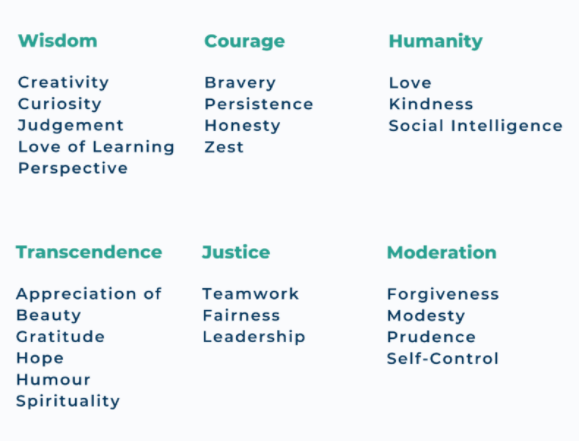 ---
Research shows that understanding and applying your strengths can help:
Increase Wellbeing
Reduce Chances of Burnout at Work
Strengthen Relationships
Manage Problems
Reduce Stress
Accomplish Goals
Build Meaning and Purpose
---
A Signature Strength is a way of being that feels uniquely you and when you use this strength you are energized.
All Bloom programs and participants have access to the Character Strengths assessment tool built right into the Bloom platform, along with the ability to set priority areas for learning and growth, and access a customized set of suggested activities that leverage and help you cultivate your Character Strengths.
To learn more about Character Strengths, click here.